About A's Pool Table Sales & Service
We Make Every Shot Easy!
A's Pool Tables Sales & Service is family-owned and operated for over 40 years! We're conveniently located in Plantsville, Connecticut. A's offers pool table services in Connecticut, New York, Massachusetts, Rhode Island, New Hampshire and Maine. Our teams skill lies in the repairing and moving processes of all slate pool tables of any size! Moving your own pool table can be cumbersome. Without proper dismantling parts of your pool table can scratch or damage along the way. Our team will come out, dismantle, and move your table to its new location ensuring proper and safe moving and reinstallation. Is your current table in need of new felt? Not to worry we've literally got you covered!
A's Pool Tables Sales & Service of Plantsville, Connecticut operates by appointment only. This is to ensures we are dedicating our clients the time and attention they deserve. We are operate with proper insurance and licensing. If you need an insurance binder we can provide you with that as well. We also have a warehouse full of new, used, coin-operated and antique pool tables for sale.
Our Services
POOL TABLE RECOVERY:
Pool table recovery, also known as pool table re-felting is a service involving the stripping of your tables old felt (whether it's torn, worn or you just need a new color) and replace it with new! This is typically done to the top of the pool tables bed and rails.
POOL TABLE DISMANTLING & REASSEMBLY:
Need your pool table moved to a new location? Or, are you just in need of breaking the table down into pieces and moved out of the way for a new floor/rug? We will properly take your table apart, mark all the pieces (ensuring your table goes back together the same way it came apart) move it for you, and come back to reassemble!

POOL TABLE RESTORATION:
Over the years a pool tables condition can deteriorate due to usage or climate. With our restoration process we will have your table looking, feeling and playing like new. From slate repairs to rail rubber change!
New or Used Coin-Operated and Antique Pool Tables in CT.
A'S POOL TABLE SELECTIONS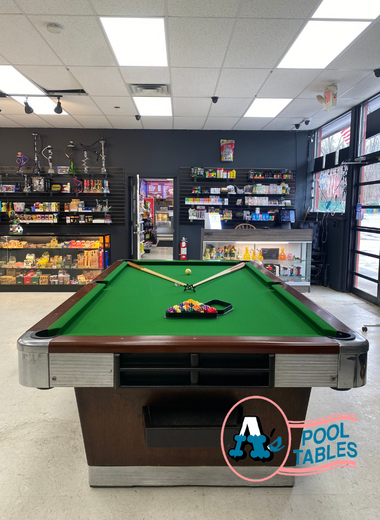 Commercial Style Pool Table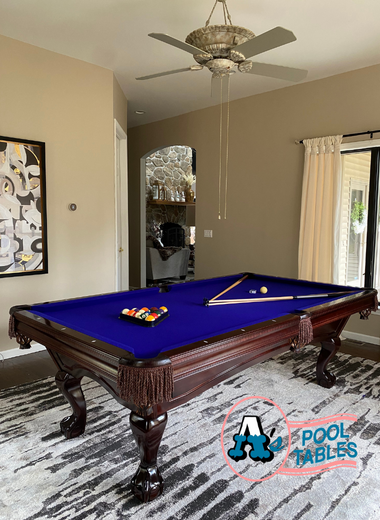 Furniture Style Pool Table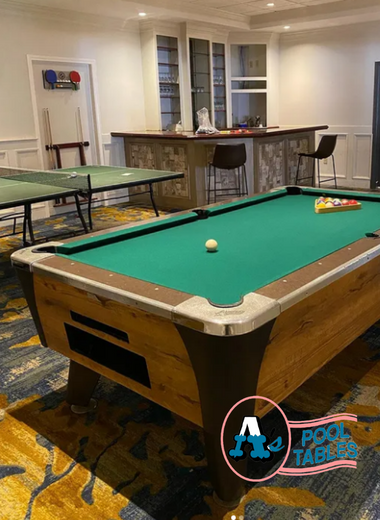 Coin-Operated Pool Table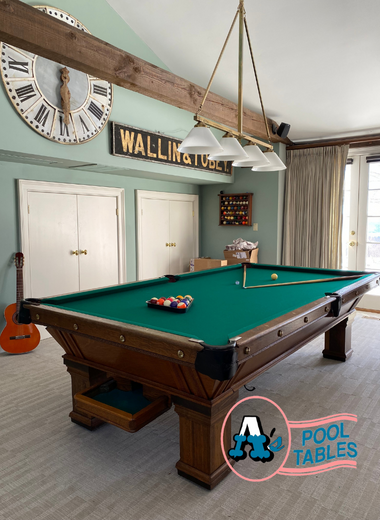 Antique Style Pool Table
Looking for a Pool Table? We Service all over Connecticut!