TRUST IN A'S POOL TABLE SERVICES
Play Like a Champion
BENEFITS OF POOL TABLES
With a Pool Table in your home, you have the luxury of brining the billiards to you! Being able to play whenever you desire with family or close friends is a great way to not only enjoy the game, but make lasting memories. We sell and service new and used pool tables. A's is confident we can provide you with an excellent pool table that fits your budget. Faced with Championship felt, there is an array of colors to select from. Furthermore, to add a personalized touch, we offer script customization to your pool table. We specialize in coin-op slate pool tables and antique pool tables.
CHAMPIONSHIP FELT | POOL TABLE CLOTH
A pool table should not only look good, but feel good as well. High quality pool table cloth should provide accuracy and a smooth consistency to your playing. With its teflon coating and water resistance, Championship pool table cloth gives your table the high class, sophisticated look world champions know and love, at an exceptional price. A's Pool Tables has the Championship Cloth Color Card in store for you to see the swatches before placing your order. You will be impressed by the quality and texture of the Championship Felt.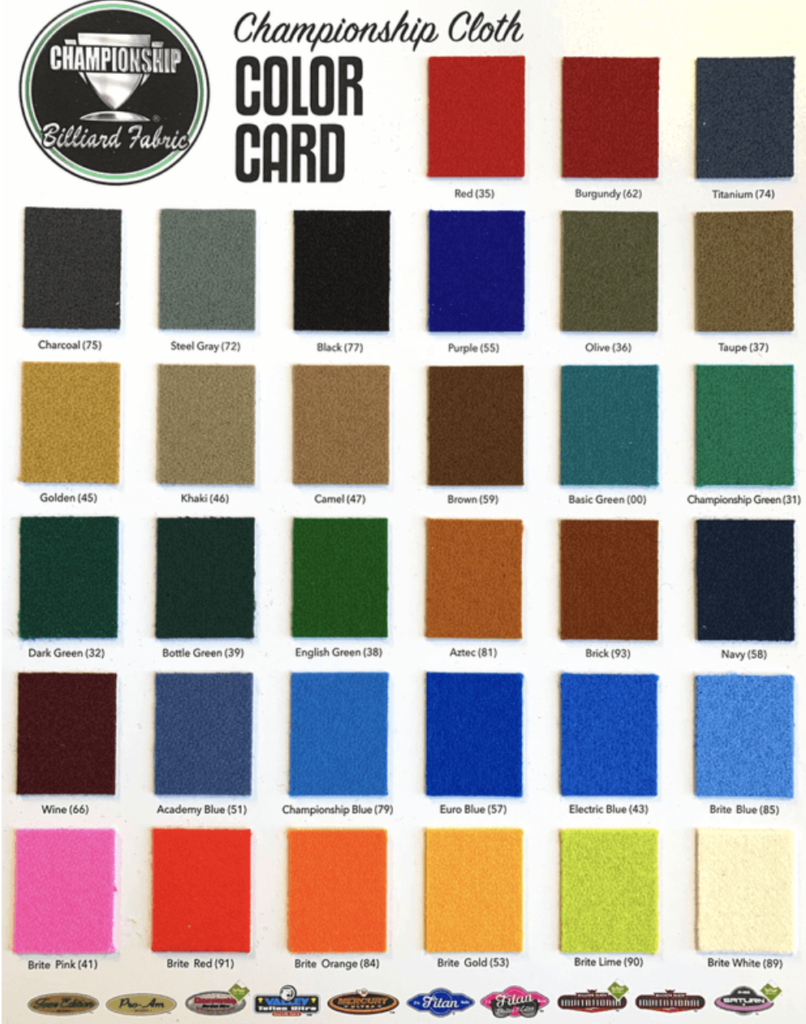 Our Services
A's Pool Tables Service List
---
POOL TABLE RECOVERY SERVICE
Pool table recovery, also known as pool table refelting is a service provided by A's Pool Tables. We will remove and replace the colored felt (pool table cloth) that covers the face of your pool table. With this service, we will also examine the table and see if it is in need of rail replacement or bumper replacement. You may be wondering, 'What does the recovery process consist of?' First, the color felt is chosen. Second, A's handles the re felting process to the face our your table. We also examine the rails and bumper of the table for damage. Finally, once the recovery service is complete, your pool table will be in perfect playing condition. We recover playing card tables too!
---
POOL TABLE DISASSEMBLY
Dismantling a pool table can be difficult. If the pool table is not dismantled properly damage can be done and even pieces of your table, broken. Moving companies that are not skilled in pool table dismantling can also cause damage to your table. Leave the stress of pool table dismantling to the pros at A's Pool Tables. Moving from one location to the next? No problem! A's Team will come to you to dismantle and properly store and transport your tables pieces to their new location.
---
POOL TABLE RESTORATION
Do you have a pool table that is in need of restoration services? Pool Tables are a work of art, and A's Pool Tables Restoration Service will have your table back to pristine condition. A's works on tables of all conditions. Over the years, tables can acquire scratches, chips, nicotine odor, and more. With our restoration process, our goal is to have your pool table looking and feeling like new, and in ultimate playability condition.
---
POOL TABLE REASSEMBLY
Pool table assembly or reassembly should be handled by professionals. Whether you are moving a pool table to a new location, or this is your first pool table installation, A's Pool Tables is here for you. In five steps we will have your table ready for playing. First step, we transport the table into the home or business location. Second step, the leveling process takes place. Third step, slate installation. Fourth step, felting the table. Fifth step, attach the rails and pockets. If you have taken advantage of our dismantling service during a moving process, A's will handle both processes for you!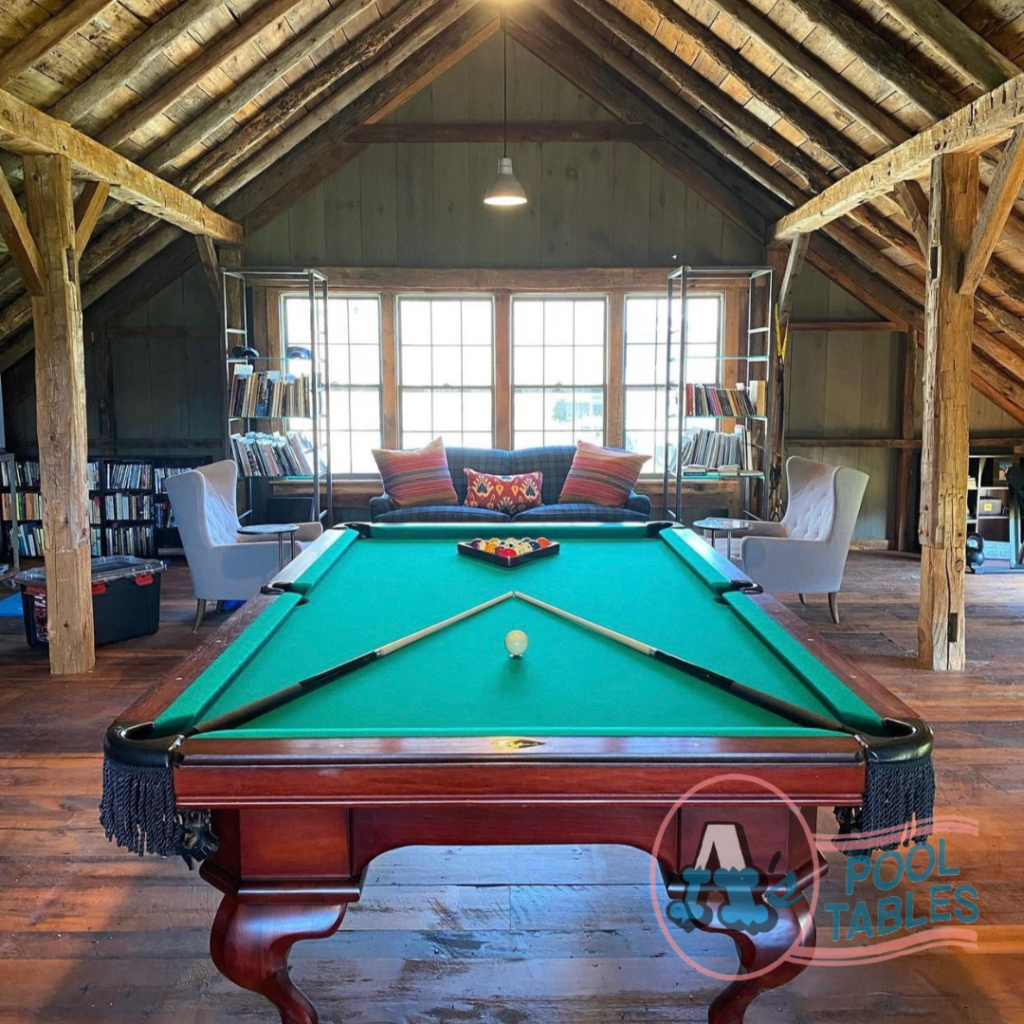 Schedule Your Pool Table Appointment Today!
TOWNS WE PROVIDE POOL TABLE SERVICES IN CONNECTICUT
WATERTOWN
WESTPORT
ROCKY HILL
SOUTHBURY
PROSPECT
WOODBURY
BRISTOL
CHESHIRE
WOLCOTT
HARTFORD
GLASTONBURY
WETHERSFIELD
AVON
PLAINVILLE
NEWINGTON
SOUTHINGTON
SIMSBURY
SHELTON
FARMINGTON
BROOKFIELD
DANBURY
MERIDEN
BETHLEHEM
LITCHFIELD COUNTY
NEW HAVEN COUNTY
CROMWELL
PORTLAND
NEW CANAAN
NEW BRITAIN
WATERBURY
BRISTOL
RIDGEFIELD
BRIDGEWATER
MIDDLETOWN
MIDDLEFIELD
PLANTSVILLE
WEST CORNWALL
MIDDLEBURY
MILFORD
WALLINGFORD
WESTBROOK
NEW FAIRFIELD
NEW MILFORD
FAIRFIELD
NEW LONDON
BURLINGTON
NORWALK
EASTON
GOSHEN
WILTON